Carolyn Cullinan McCormick Lectures/Classes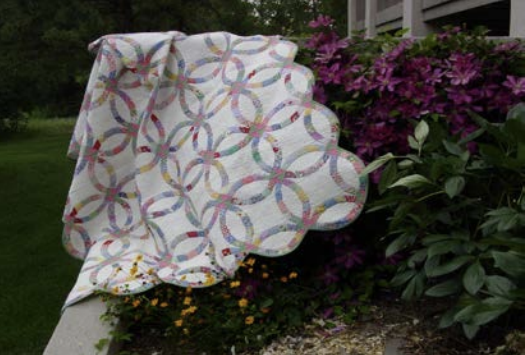 Lectures
1. The Evolution of the Add-A-Quarter: In this lectured I talk about the process that I went through with the Add-A-Quarter, from idea to product. The Add-A-Quarter also helped open the door for me to begin writing books on paper piecing. I will show quilts from the books that I have written.
2. The Women That Have Influenced Quilting: Ladies like Marie Webster, Carrie Hall and Rose Kretsinger and many more. Learn how they have impacted the quilters of today. I will also show my quilts that are using some of their designs.
3. Ohhh, So Many Scraps: What is too small to keep? This is a trunk show featuring quilts that have all been made with scraps. I will also talk about what scraps to keep and how to get and keep them organized.
Lecture fee: $400.00 (plus travel costs) Lecture size is unlimited.
Classes
1. All day classes: (5 hours class time, 1 hour for lunch) $45.00 per student with a minimum of 10 students; maximum of 20 students. Plus travel costs.
2. Half day classes: (3 hours) $35.00 per student with a minimum of 10 students; maximum of 20 students. Plus travel costs.
Select classes from any of the patterns on the website or below. I am open to other suggestions if you do not see a class that you are interested in.
Travel cost- includes travel from Denver, Colorado; meals and lodging. Every effort will be made to keep travel costs reasonable.
Please contact me at carolyn@cmdesignsonline.com or 303-841-5920 with questions.
Thank you for your interest- Carolyn
Contact Us online or give us a call to schedule a class.
Class Types
All Day Classes
---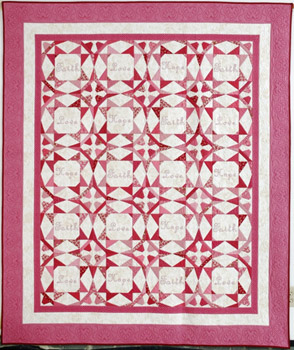 Faith, Hope and Love
This is another pattern that gives the illusion of circles. No curved pieces to worry about because it is sewn together using straight lines. Make it special by embroidering the words "Faith, Hope and Love". 64" x 76" Quilted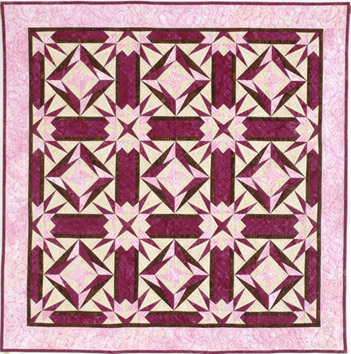 Chocolate and Strawberries
Chocolate & Strawberries is a more advanced quilt with many sharp points. When sewn together the blocks form a secondary pattern. 43" x 43" Quilted.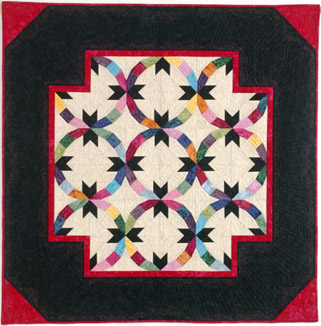 Circle of Friends
Use batiks for a bright and cheerful friendship quilt that is paper pieced. This quilt creates the illusion of curved pieces, but it's sewn together in straight lines. 52" x 52" Quilted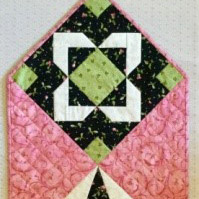 How to Table Runner
This is a great all day class teaching four different techniques using the Add-A-Quarter Plus. Learn how to paper piece, using templates, fussy cut, and stitch and flip. It is a fun way to using fabrics outside of the box.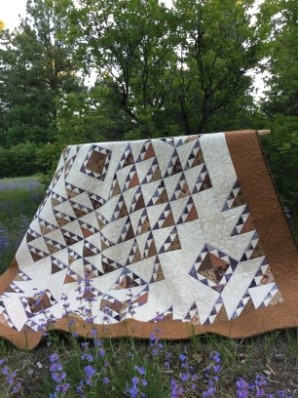 Golden Stairs
73" x 93"
Quilters are actually carpenters of fabric. Imagine creating a beautiful golden staircase for your home making 160 blocks of this 1930's design. No wood or nails required.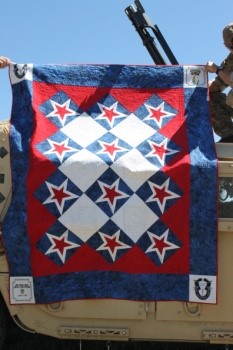 Patriot Star
61 ½" x 75 ½"
This Patriot Star pattern would be a great quilt for any military project, such as Quilts of Valor. We are fortunate to live in a country with great military men and women. No better way to honor them than with a Patriot Star quilt.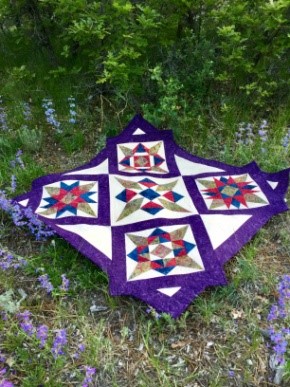 Star Gazing
46 ½" x 46 ½"
Many of us fondly remember lying on our backs on a summer night looking up into the night sky. We called it star gazing. The four outside blocks look very different but are all very similar in design, just like the stars of night. The blocks extend beyond the borders just like the stars in the sky extend beyond our vision.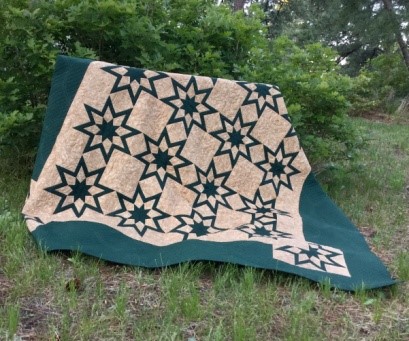 Western Star
88" x 102"
Want to make a bed quilt but don't know where to start? The Western Star would make a beautiful quilt with its unique border. There are 20 – 14" paper pieced blocks and 4 paper pieced corners.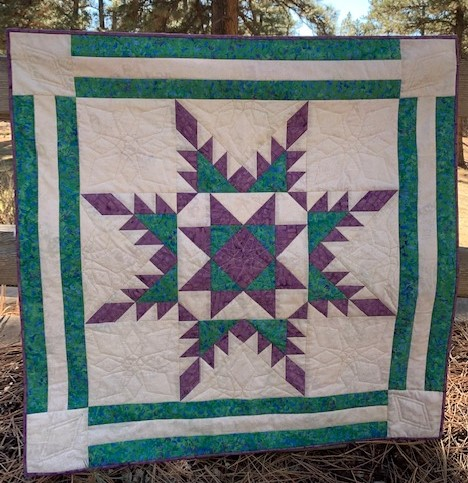 Montana Star
33 1/2" x 33 1/2" Quilted
Inspired by Carolyn's home state, the beautiful state of Montana. A simple yet striking quilt!
Holly Jolly Christmas Trees
44" x 58"
Our grandchildren's favorite seasonal classic is Christmas Vacation. Just as Clark W. Griswold went out to find the perfect tree you also can find the perfect green at your local quilt shop and make this tree quilt. In this class learn how to position half-square triangle the correct way every time.
Half Day Classes
---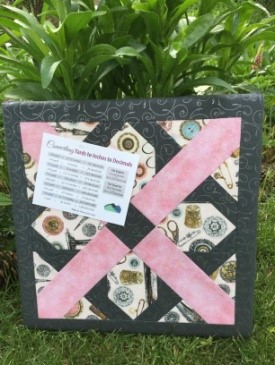 Quilted Bulletin Board
The quilted bulletin board is a fun easy class to learn the technique of paper piecing. The bulletin boards would make great gifts for family and friends, think of all the fun fabrics you could use!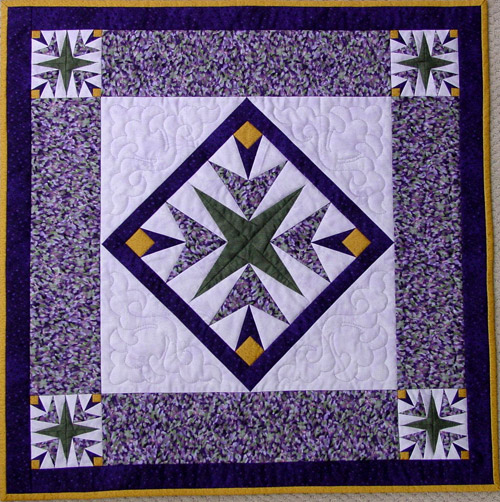 Castle Rock Crocus
This pattern has a 10" and also a 4" block. Learn how to paper the larger block first and then make the 4" blocks. The technique is always the same but will be using and Add-A-Quarter Plus and also and Add-An-Eighth Plus.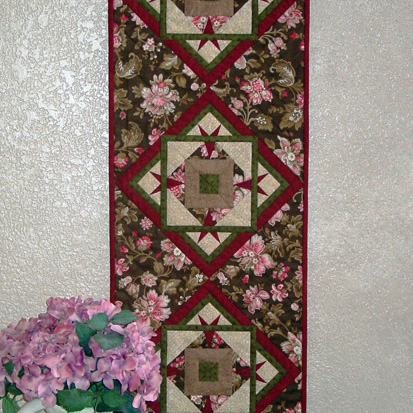 Bozeman Trail
Early pioneers found the route to the mining fields arduous and dangerous. They came to depend on an easier route, the Bozeman Trail. Travel the Bozeman Trail pattern to create a beautiful wall hanging using the technique of paper piecing.
Miniature Quilts
---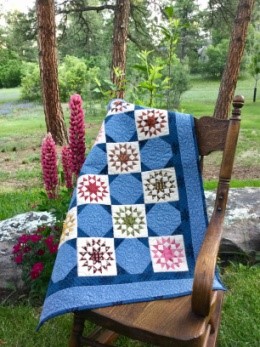 Dargate Stars
22" x 30"
The Dargate Stars pattern is a fun way to use fat quarters, make every star different. Snowball blocks make the 4" paper piece blocks pop.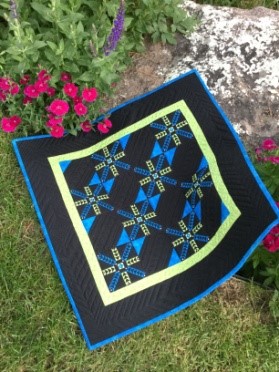 Northern Lights
24 ½" x 24 ½"
We all enjoy the beauty of the Northern Lights. This wall hanging uses 4" miniature blocks to capture nature's beauty. This class is not for beginners. Time consuming, but so worth it. Remember, it is paper pieced that makes it easier to make!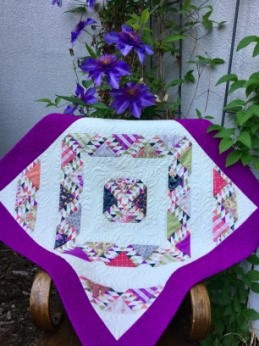 Saw in the Barn
29" x 29"
Want a great way to use scraps? Saw in the Barn is a different twist on the barn raising design. Paper pieced 4" blocks.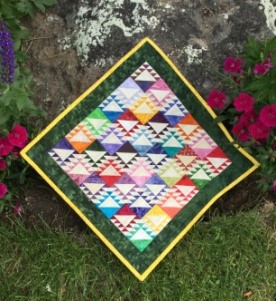 Scrap Baskets
15 ½" x15 ½"
Paper piece each basket using a different fabric makes up this colorful zig zag design. Each basket makes into a 2" block.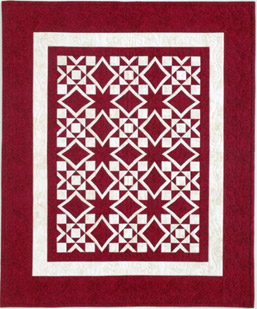 Diamonds and Star
Have you always wanted to make a miniature quilt but have not had the opportunity to try it? This class is for you! This stunning red and white paper pieced quilt is made up of 4" blocks. 26" x 31" Quilted